Our Firm
The Camilleri Financial Group is a full-service financial planning firm committed to helping our clients pursue and achieve their financial goals.
We provide objective, unbiased, and creative solutions for families regarding their investment management and financial planning needs.
We believe in a comprehensive approach to financial planning, so we offer advice on investments, retirement and college planning, estate planning, insurance, and tax planning. 
We are proud to be recognized as a financial planning firm specializing in comprehensive services for middle-income clients.  We believe high quality objective advice should be available to Middle America and not just to the wealthy.  Working families that are trying to figure out how to save for retirement, fund college education, and care for aging parents deserve affordable, unbiased financial advice.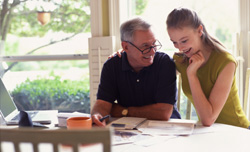 While there may be financial advisors who have large investment minimums that only the very wealthy can meet, we prefer to work with "Middle Americans" who care greatly about their financial future and are eager to work with a competent advisor that will help them do the right things with their hard-earned money.
Our firm can help provide you with cost-effective solutions to managing your financial affairs.
Our clients range from young individuals and families who are just getting started, to retired couples who are managing their nest eggs.
We are an independent firm.  We are not pressured by a parent company to direct you into their "in-house" financial products.  We have the freedom to provide you with a wide variety of investment choices that the financial services industry has to offer.  We function in a totally unbiased atmosphere where the only factor in our decision-making is what is best for you!